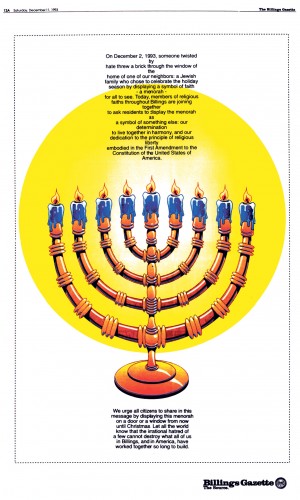 A menorah printed in the Billings Gazette

In 1993 in Billings MT, the image above was printed in the local newspaper, the Billings Gazette. A rock had been thrown through the window of a child's room with a menorah in the window. Echoing a time during World War II when the Danish King was helping his country resist Hitler, the citizens of Billings, or many of them also posted menorahs in their windows. This is the image many people used. Below is a trailer about a documentary of that time.
The trailer is a LITTLE over congratulatory: RantWoman can attest that the forces of tolerance ebb and flow. For instance this year, RantWoman is having lively #blacklivesmatter exchanges with both RantMom and an elementary school classmate. And yet...
A link to order the whole Not In Our Town video
https://www.niot.org/niot-video/not-our-town-billings-montana-0
A link to a 2008 15th anniversary celebration of the original menorah campaign and the events leading up to it.
http://www.jta.org/2008/01/22/life-religion/billings-15-years-after-menorah-incident
A "nothing appropriate" element topical to the RantFamily: RantWoman was by then long gone. RantWoman asked her Rantparents why they were not called to put a menorah in their window. RantWoman does not remember any answer that made sense to her though RantWoman thinksit was RantBrother who spoke to unease related to a crank lab down the street. RantWoman definitely would not mind history being otherwise.