RantWoman herewirth posts some hypothetical Christmas / holiday cards which, blessings be upon the interwebs, are very unlikely to make it into any medium aless ephemeral than blog pages. RantWoman realizes they reflect the state of RantWoman's spiritual compost heap, this year located especialy conveniently under the flight path of a whole lot of reindeer. RantWoman hopes others who find themselves similarly situated may also be amused.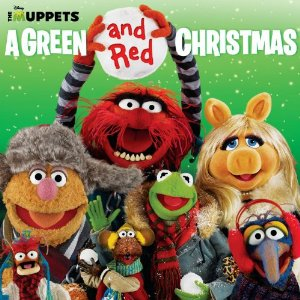 A Green and Red Christmas with Muppets
Dear Muppet Fan Neighbor
RantWoman is terribly grateful for all your help at the community holiday party.
Yes, it's a HOLIDAY party, not a Christmas party in sincere effort to include all the people who do not observe Christmas (as much as you and I do).
RantWoman is glad you have lined up all the ducks that need to align so you now have your lovely service chihuahua. RantWoman appreciates it a lot that your dog almost all the time just rides around on your walker. RantWoman so appreciates that your service chihuahua has some kind of authentic certification and an authentic service dog vest because that is SUPPOSED to simplify things. RantWoman does not mind NOT having to argue on behalf of another service chihuahua she knows: that hound's main service is to ask to go out just as Nuclear Family is nearing meltdown.
RantWoman is sorry to hear you took flak from the building management about bringing your service dog to the holiday party. RantWoman is relieved to hear that you have thought at least a little about whether your service dog would really appreciate the music, but RantWoman also considers it appropriate to consider whether we need to Speak to Management about this exact issue.
More to the point, RantWoman apologizes. RantWoman has a big fat chicken-clucking conflict of interest. RantWoman wants to be all supportive of your hound's right to be wherever you take him.
And
Small hounds on leashes, even small hounds under very good control by their handlers, DRIVE RANTWOMAN CRAZY because she cannot see them, she does not want (EVEN TO BE TEMPTED) to walk on them or to squish them or....
Sooooo, could we MAYBE think about your hound's ears and save... for another time?
Many Christmas Blessings,
Sincerely,
RantWoman


Kermit and Dr. Teet in someone's shopping basket